Travis County, TX – Man charged with sexual assault of a child, former "fugitive of the week", released and FREE TO GO under Travis County's "soft on crime" pretrial release
Tom Peterson, 30, of Austin, was charged with Sexual Assault of a Child during an investigation in April 2016.
According to the Affidavit for Warrant obtained by US Bail Reform, Peterson had engaged in sexual intercourse on at least four occasions with the daughter of a female he was dating at the time.
Peterson was later featured as Austin Police Department's "fugitive of the week" after failing to appear for court. The same day he was rearrested, he released and FREE TO GO under Travis County's Pretrial Services – after a judge signed off to give Peterson a "Personal Bond."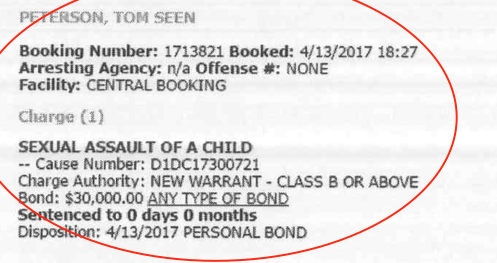 A Personal Bond is a type of pretrial release where the defendant simply "promises" to pay the court the face value of the PR Bond should they fail to appear before the court.
This is nothing new for Travis County. These types of releases are business as usual – despite the obvious risk to victims and public safety.
We must demand more accountability. The reckless unaccountable release of dangerous and violent offenders only serves to create more crime and more victims.
ZERO Accountability
ZERO Bail
ZERO family involvement
Just a 

"pinky promise"

 to return
---