Travis County Man out on Personal Bond for Robbery, Commits Another Robbery.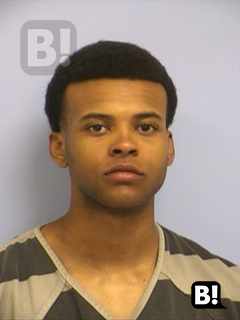 Patrick Landry was arrested for Attempted Burglary of a Habitation, he dropped his phone and according to the Probable Cause Affidavit:
Ofc. Kaleikini reported that he opened the phone in an attempt to find the owner and saw that the phone was opened to a Face Book account showing a profile picture of the same suspect observed on the Ring camera surveillance footage.
Read the affidavit here.
While Patrick was in custody he also spit in a correctional officer's face. That is also a felony charge and you can read the affidavit here.
Despite his lack of respect for the law and law enforcement he was released from jail on Personal Recognizance bonds, which is nothing more than a "Pinky Promise" to appear in court and not commit any more crimes at the taxpayers expense.  See the "PR" bonds here.
While out on PR bonds, Patrick continued to burglarize people and was rearrested on 2/22/19, when he was caught in the act while trying to steal a TV. According to the news report:
A man with an extensive history of burglaries was arrested in south Austin Friday after allegedly breaking into a woman's home one hour earlier, according to court documents.

The woman who made the call told officer's that she was coming out of the bathroom when she saw a man in the corner of her home trying to disconnect her television. She said that her sliding glass door was smashed with a brick, and when the man saw her he fled out the front of the house.
Read the full news story by clicking here.
Pretrial release is reckless and only creates more victims. I am sure that the victims created by Patrick Landry are happy their tax dollars allowed him to continue his life of crime. Demand accountability by using our call to action tab and let your Representatives know you refuse to let this become the new norm in Texas.
---