Air Force Service Member Murdered by Individuals out on Personal Recognizance Bonds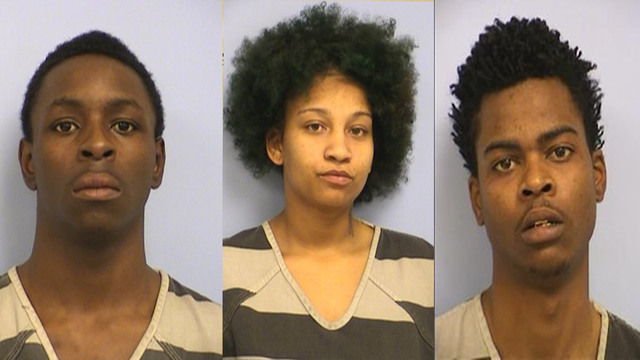 Austin, TX  
January 20th, 2019 - Austin Burroughs was murdered right after parking at his apartment. The 3 suspects, now in custody, were currently out on Personal Recognizance bonds for a range of charges from Aggravated Robbery down to Assault. Read the full news article by clicking here. How were these 3 allowed on the streets to commit such a heinous crime? We can lay the blame solely on the "soft on crime" approach by Travis County Judges and Magistrates. Here is a brief run down of each defendant with their pending cases.
Elanna Wilkes - In March of 2018 Elanna was arrested for Assault with Injury Family Violence. She was arrested on 3/1/18 and released on PR bond 3/2/18. According to the affidavit:
Elanna retrieved a meat clever-style knife from the bedroom. Javone said that Elanna then made a swiping motion with the knife in front of him, which he believed to be an attempt by her to cut him.
You can read the full affidavit by clicking here. 
Now we can fast forward to December of 2018 and a warrant was issued for her arrest for False Statement to Obtain Property or Credit. You can read the full report here and see what she was up to while out on the PR bond.
Cornelius Martin - On 5/17/16 Cornelius had a warrant issued for his arrest for an Aggravated Robbery. He was arrested on 6/7/16 and placed into the Travis County Correctional Complex. On 11/12/16 Cornelius picked up another charge for assaulting another inmate. Despite the seriousness of the Aggravated Robbery and Assaulting another inmate, he was granted 2 personal bonds and released from jail. Cornelius' PR bonds were revoked on 12/9/16 for non compliance and warrants were issued for his arrest, he was rearrested on the warrants on 4/20/17. Once again he found himself in the Travis County Correctional Complex until 5/18/17 when he was released on PR bonds once again. Cornelius once again had his PR bonds revoked for non-compliance on 6/21/17 and warrants were issued for his arrest. On 8/21/17, he was arrested on the outstanding warrants for Aggravated Robbery and Assault, but also picked up 2 new charges for Possession of a Controlled Substance (MDMA/Ecstasy) and Unlawful Carrying of Weapon.
You would think that with his history of having warrants, non-compliance, and picking up new charges he would stay in custody. Travis County saw it another way and released him again, on Personal Bonds for all 4 charges on 4/9/18. The PR bonds were revoked on 6/19/18 and warrants once again issued for his arrest. The warrants remained active until the Lonestar Fugitive Task Force apprehended him a few days after he was named a suspect in the murder of the Air Force Service Member. You can see a copy of all the affidavits and Personal Bonds right here.
Darius Burdett-Hornsby - On 6/12/18 Darius had a warrant issued for his arrest for assaulting his aunt. According to the Affidavit:
It was during this struggle for the clothing that the suspect then and there struck the victim in the chin causing her pain to her jaw.
Darius was arrested on 6/13/18 for the assault and was released on a Personal Bond on 6/21/18. While he was out PR bond he received another charge for Failure to ID on 11/24/18 and was released on PR bond again. Darius had court the morning of 12/14/18 and failed to appear for both charges and warrants were issued for his arrest. You can see a copy of the PR bonds and warrants here. That brings us back to the fateful night of January 20th, 2019 when Austin Burroughs was murdered.
Please take a few seconds and use our "Call to Action" to email your State Senators and Representatives and let them know you do not want your Taxpayer dollars being used for the release of accused individuals.
---