Austin, TX – Man arrested on possession of child pornography FREE TO GO under Travis County "soft on crime" "PR" Bond
Patrick James Tye, 25, of Austin, was arrested and charged with possession of child pornography following an investigation by Austin police.
Despite the initial bail setting of $100,000, Tye was released and FREE TO GO under Travis County's "soft on crime" pretrial release policy. Tye was released on a "PR" Bond which requires nothing more than a signature and a "promise" to appear.
When you remove the deterrent of jail and accountability, what kind of message are we sending to those who disregard the law and scoff at being arrested?
---
Travis County Pretrial Release is dangerous, reckless, and a taxpayer burden
ZERO Accountability
ZERO Bail
ZERO family involvement
Just a 

"pinky promise"

 to appear
The public should demand more accountability – email your legislators below to "Take Action."
---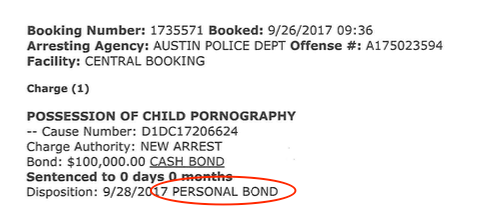 ---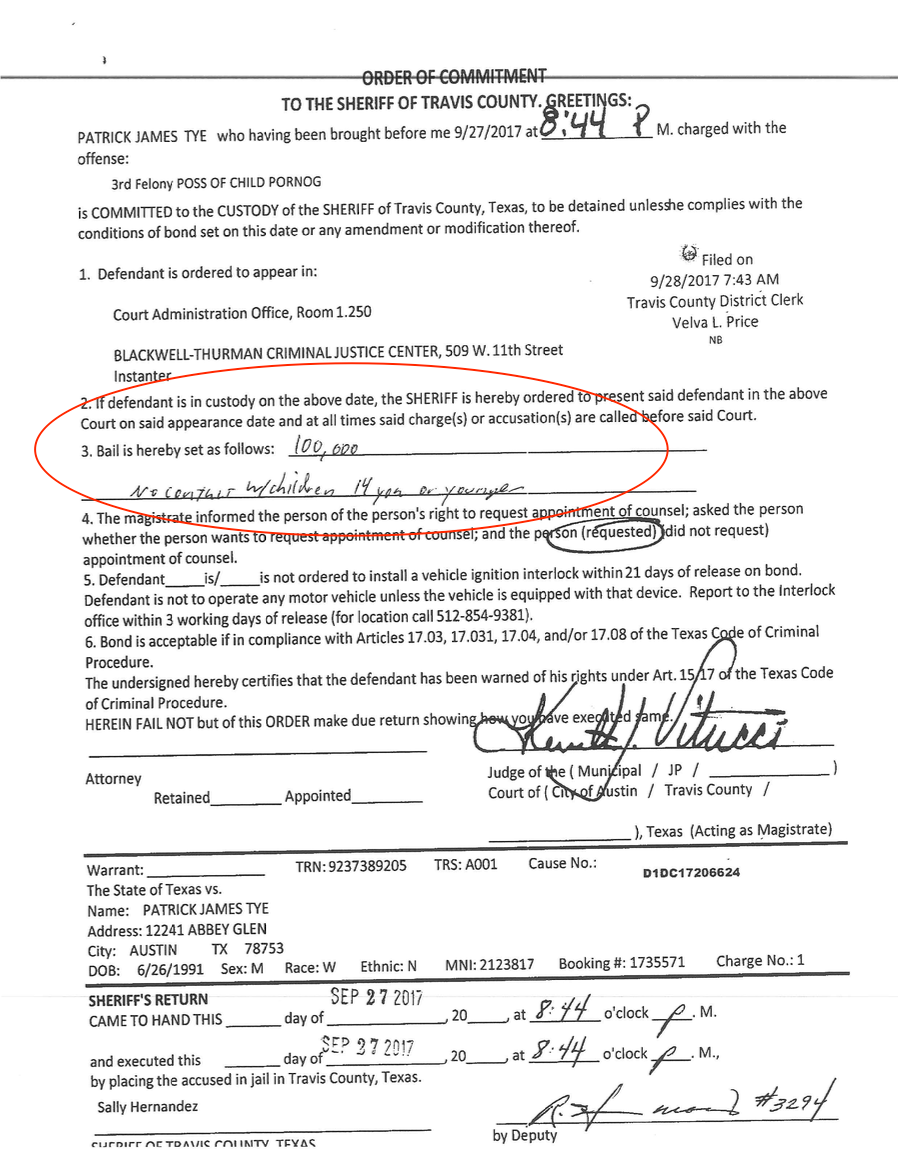 ---
RELATED:
(reported by KVUE.com – Sept 28 2017)
Police have arrested a 26-year-old man after determining that he was in possession of child pornography.
According to an arrest affidavit, Austin police received four online tips from Dropbox, Inc. between May 11 and May 19 reporting over 9,000 images and videos uploaded to an account in their system that contained several files of apparent child pornography. 
Investigators were able to determine that the account in question belonged to Patrick James Tye. Officers spoke to Tye, who admitted to viewing and possessing child pornography. Officers found folders in Tye's Dropbox account tiled "12 and down" and "Boys" both of which contained child pornography, according to the affidavit. 
The affidavit states that Tye was charged with possession of child pornography, a third-degree felony. His bond was set at $100,000 and he was ordered to have no contact with children under 14-years-old.
---
You've been lied to Texas, unaccountable pretrial release is dangerous, reckless, and a burden on the taxpayer…
---